Ancient Wisdom, Modern Living Repenish Spring Retreat
Ancient Wisdom, Modern Living Repenish Spring Retreat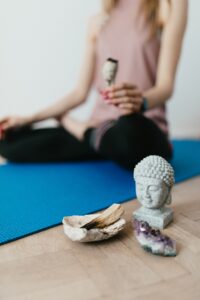 Spring is about new beginnings, growth, fresh starts and
creation.
It is a time to release things that no longer serve us
to make space for the new. Taking time to revisit our goals,
visions and desires allows us the opportunity to be present enough to see
what is helping us more forward and where we may be "stuck". Slowing
down for a weekend to be present with yourself and harmonizing your
thoughts and energy to reflect the right attitude, balance and harmony
needed to move into this next exciting season of your life.
AGENDA
WHAT
A retreat designed to provide an opportunity to synchronize with the energy
of Spring (change, new beginnings and growth) and your own energy self
(Chakras, sound and breath). We can only change when we are present
and aware of ourselves, patterns, energies, emotions, physical truths- so
that in awareness and presence we can make a conscious decision to
move/grow/expand/ground/change—Beginners welcome!
WHERE
The beautiful Thunderbird Lodge, which is located on the majestic Rainy
Lake, Minnesota- the gateway to Voyageurs National Park. Spring will see
things warming up with access from Thunderbird Lodge to the Voyageur's
National Park Headquarters, local trails and more in your time outside
(weather and desire permitting!) of our organized retreat agenda.
*Flights directly into international falls available
WHEN
May 6-7, 2023 The beauty of Spring on the lake will be the
backdrop to this beautiful weekend to reconnect to YOU and nature.
Instructors:
At this special retreat, we have two special teachers lined up
for you! Christa Heibel (eRYT500 and RYS owner) and Monica Hatch
(Spiritual Life Coach).
Replenish Yoga & Wellness
[email protected]
On Facebook 218-286-4006
Retreat Agenda
Saturday:
8:00 am Welcome
8:15 am Smudging & Opening the Circle
8:30 am Asana practice: The energy of New – Physical asana
practice for checking in with ourselves physically and energetically on
the mat through stretching, grounding, connection, and breath.
9:45 am Drum Wash – Aligning the chakras with the vibration of
the drum to release any attachments stored in the chakras.
10:15 am Fire Ceremony – During this ceremony, you will have a
chance to write down all the attachments that came up for you during
the Drum Wash and release them in the sacred fire.
10:45 am Break
11:00 pm Introductions & Workshop – Releasing the old to
make space for new. Consciousness in manifesting new beginnings.
Mind * Body * Spirit roles in your creation.
12:15 pm Walking Medication – Connect to Earth and capture
her beauty through the use of photography, all while being present.
12:30 pm LUNCH
1:00 pm Workshop – Beauty and being in the moment, being
present
1:45 pm Spiritual Drumming: While sitting in circle, we will use
this process using the drum to feel a longing in our hearts as we
search for what we need, perhaps divine love or inner peace. This will
also provide opportunities for our personal and spiritual growth as
each participant takes a personal walk through a labyrinth for
connection and reflection. The drum is utilized as a method to tap into
the natural power of rhythm and sound that shifts the focus and
awareness to hold both the inward and outward journey together,
sometimes in tension, but always focused on the search for meaning,
for the Divine. No drum, no problem, drums available.
3:45 Break
4:00 pm Asana – Chair Yoga
4:45 pm Meditation
5:00 pm Wrap Up
Sunday:
9:00 am Asana practice: Yoga as Union & Flow
10:00 pm Pranayama (breath work)- Yin & Yang energy – using
masculine and feminine energies to create and manifest, to stop
doing and start doing. Harmonizing in balance for our overall well-
being.
10:30am Break
10:45 am Workshop: Yin & Yang Energy– Using masculine and
feminine energies to create and manifest, harmonizing in balance.
11:45 pm Love Message from Monica – Collective reading,
receive your personal message(s).
12:45pm Angel Walk – Equally giving and receiving.
1: 30pm Formal Closure
*Agenda may be subject to change
Share Event !